10 Best Books For Father's Day 2021
Father's Day's coming up, and you're wondering what I should get that special man? Check out our list of the best books for Father's Day!
If you buy him a book, he'll be overjoyed—and I think there's nothing more considerate than a Father's Day book.
Like the finest Fathers, the finest father's day books will rely on what your favourite father enjoys most in life.
Giving books as a gift to dad is terrific!
Not only because it allows even the most seasoned father to discover new worlds. But also because he can learn more about his favourite hobby, or be entertained by a colourful cast of characters.
If your dad is a big reader, you're in luck because this blog post will outline 10 of the best books of 2021 to give your Dad this Father's Day.
Look Big By Rachel Levin
This handbook to interactions with 50 different animals is essential for dads who enjoy camping and being outside.
Journalist Levin offers well-researched information in Look Big for surviving encounters with wild creatures like coyotes, bears, and moose.
As well as helpful ideas, tales, and charts for coping with smaller animals such as bees and skunks.
The Phantom Atlas By Edward Brooke-Hitching
If your father likes to impress his dinner guests with obscure historical information, he'll sure enjoy The Phantom Atlas.
Each page is filled with reproductions of historical maps that emphasize errors committed on those maps. Such as early mapmakers' mishaps and cartographers' purposeful lies intended to deceive the map reader.
He'll be sure to uncover a new story to surprise everyone at the next family gathering with magnificent photos and intriguing historical anecdotes from civilization's past.
1,000 Record Covers By Michael Ochs
This anthology of album art will captivate any dads out there who still have a record collection somewhere in the house.
Michael Ochs is a well-known music archivist and rock photographer. In this book, he has chosen the best album covers from his vast private collection to display throughout the book.
1,000 Record Covers, takes readers on a journey through the growth of rock music from the 1960s through to the 1990s.
Dead Wake By Erik Larson
The story of the Lusitania, a luxury ocean liner that we once considered the world's fastest cruise ship during WWI, is examined and retold in this New York Times bestseller.
In May 1915, the ship sank, carrying a record number of newborns and children.
Larson's meticulously researched tale, Dead Wake, tries to resolve many of the lingering mysteries about the accident.
Perfect for dads who are into historically based mystery books!
To Me, He Was Just Dad: Stories of Growing Up with Famous Fathers By Joshua David Stein
This book includes a collection of stories about legendary father figures. Such as John Wayne, John Lennon, Bruce Lee, Christopher Reeve, and Miles Davis. It also includes many anecdotes of the lives of the editors of the infamous dad website known as Fatherly.
For a refreshing, emotional take on parenthood, the forty first-person narratives in To Me He Was Just Dad expose a very different perspective of the famous individuals you think you know.
Greenlights By Matthew McConaughey
Actor Matthew McConaughey tackles what he calls "catching greenlights" in this renowned memoir. The emotional effect of learning how to deal with life's adversities to realize success.
If your dad is a movie buff, Greenlights is the perfect book to add to his collection of books, DVDs, and VHS tapes!
24: Life Stories And Lessons from The Say Hey Kid By Willie Mays and John Shea
Willie Mays is widely recognized as baseball's finest all-around player due to his unmatched hitting, defence, and base-running skills. Here, he shares the inspirations and influences that he credits with guiding him on and off the field in his inspirational biography.
For the sport fanatics out there, 24: Life Stories And Lessons From The Say Hey Kid is the perfect gift for this Father's Day!
American Sherlock By Kate Winkler Dawson
The actual narrative of the genesis of the modern criminal justice system is told in American Sherlock.
Edward Oscar Heinrich became America's first forensic scientist in 1993. He was dubbed the "American Sherlock Holmes" because of his superhuman ability to notice clues and solve puzzles.
Heinrich was the driving force behind the development of several forensic instruments used by police today. In essence, forever altering the direction of criminal investigations in the United States and the world.
Let Love Have the Last Word: A Memoir By Common
In Let Love Have the Last Word, Common, a Grammy Award, Academy Award, and Golden Globe-winning musician, actor, and activist, opens his heart, exploring a range of topics with tremendous honesty.
These include faith and family to trauma and abuse, all the while expressing his core belief. That love and mindfulness, through our actions and words, can help us to heal our hearts and communities.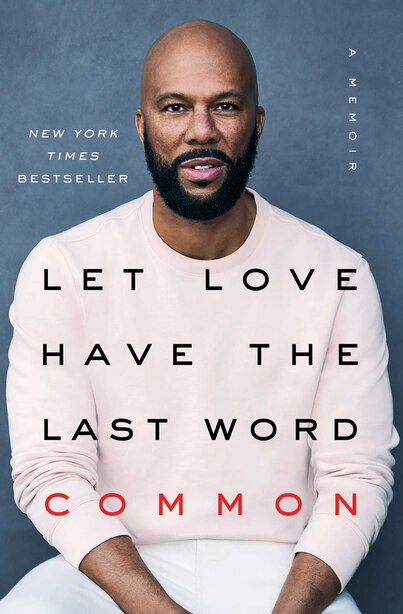 Make Your Bed: Little Things That Can Change Your Life... And Maybe The World By Admiral William H. McRaven
Make Your Bed is based on a Navy SEAL's 2014 University of Texas at Austin commencement speech. It is jam-packed with significant life lessons that begin with a simple premise: changing the world starts with making your bed.
McRaven discussed ten concepts he learned from his Navy Seal training at the graduation ceremony. Which he later put into effect when conquering problems not just in his Navy career but also in his personal life.
With more than 10 million views on the platform YouTube, the speech went viral.
The admiral expands on his remarks in this book, full of humility, hope, wisdom, practical guidance, and encouraging words.